Brochures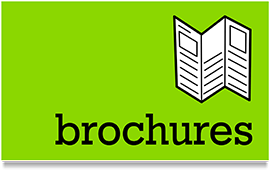 A brochure often referred to as a pamphlet, are advertising tools mainly used to introduce a company or organization about its products and services to a target audience.
The most common types of single-sheet brochures are the bi-fold; a single sheet printed on both sides and folded into halves and the tri-fold the same, but folded into thirds. A bi-fold brochure results in four panels two panels on each side, while a tri-fold results in six panels three panels on each side.
Booklet brochures are made of multiple sheets are stapled on the creased edge, or "perfect bound" like a paperback book.
Brochures are usually printed using four colour process on good quality art paper to give an initial impression of quality. Clients may turn to digital printing for lesser quantities, but offset litho printing turns out higher quantities for less cost.
I will always advise on the most cost effective method for each job.
Please visit my portfolio page for examples of quality brochure design.